Los Angeles, CA–(Press Release)–Today, ENG ( www.engbim.com ) and AEC Resource ( www.aecres.com ) announced the establishment of AEC+ENG Middle East , a joint venture with the purpose of providing Building Information Modeling and related services in the Middle East market.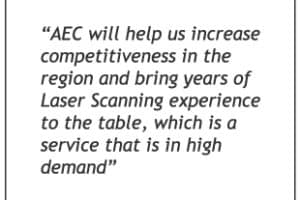 "ENG is very pleased to partner with AEC, which is a highly respected leader in BIM consultancy, but also adds Laser Scanning and high end 3D visualization services to our portfolio of offerings," said Axel Kruger, President of ENGworks. "AEC will help us increase competitiveness in the region and bring years of Laser Scanning experience to the table, which is a service that is in high demand. ENG will continue to look for new ways to build global partnerships that drive growth and success for the company, our partners, and our clients."
Diego Cotsifis, Director of AEC Resource, commented: "We view our new joint venture as a natural evolution of the working relationship that has existed between us and ENG for more than 10 years. In the Middle East, we began working together in Saudi Arabia on a large Hospital project two years ago and we always viewed ourselves operating in a real spirit of partnership. This new JV will allow us to provide further help to our clients in the region and is truly a win-win proposition for all involved".
The joint venture entity will be formed and the new operating structure implemented in the second quarter of 2017.  In Qatar, AEC+ENG Middle East will operate in partnership with NCS, who is our local office in Doha [Mohamed Sallam, mohamed.sallam@ncs-me.com ,   Mobile: +974 55231467. For the rest of the countries of the Region Tariq Abu-Laila, [ eng@engbim.com , Mobile: +965 – 99085485], will continue be our Region al Director, based in our Kuwait office and covering among other countries the UAE where we will be opening an office soon.
The joint venture allows ENG, AEC and NCS Qatar to achieve greater scale, become more competitive and improve support to our clients across these countries.

Contacts
Diego Cotsifis
Global Director AEC+ENG MIDDLE EAST, LLC
Email: dcotsifis@aecres.com
Contact AEC+ENG MIDDLE EAST – Kuwait, UAE
Tariq Abu-Laila
Business Development Manager
Mobile: +965.9908.5485
Email: eng@engbim.com
Contact AEC+ENG MIDDLE EAST – QATAR
Mohamed Sallam
Sales Manager IT/BIM
Mobile: + 974 55231467
Email: mohamed.sallam@ncs-me.com