How does it work?
During the Scan to BIM process, point clouds composed by millions of data points previously obtained during a 3D laser scanning session on site are converted into accurate 3D Architectural and MEP BIM models which reflect exactly what has actually been built, providing all geometry and data needed for as-built, renovation and documentation purposes.
The ENG Scan to BIM team specializes in tracing these point clouds produced by our scanning team or by 3rd party companies that perform the field Laser Scanning, and in generating Native REVIT models that can serve several purposes, from its utilization as a starting point for architectural/engineering redesigning of existing buildings and coordinating trades of new construction with existing conditions to capturing As-Built conditions for BIM models that will be utilized for Operations (FM).
ENG utilizes 3rd party and its own proprietary plugins and know-how to make the modeling/tracing process more cost efficient and to ensure the quality of the mode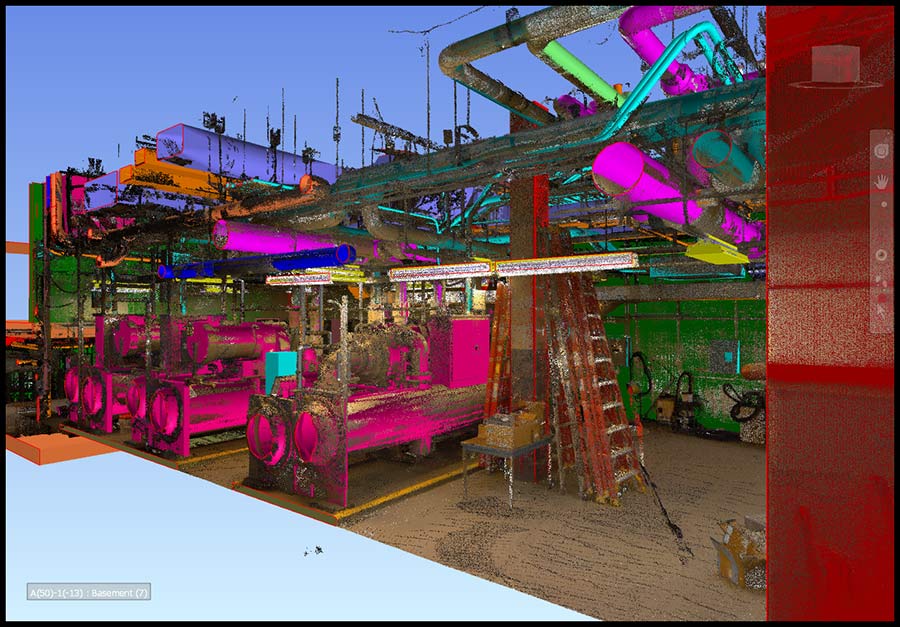 As-Built Modeling and Scan to FM
Often, existing facilities do not count with reliable As Built Drawings and Asset records. Especially if that facility has gone through several remodels or expansions. The Facility Engineer typically contacts ENG for a Laser Scanning and Scan to BIM model creation with 2D As Built Drawings.
Having those as built conditions captured and modeled already provides great value as a base for future expansions. However, in order to leverage those models on a daily basis during operations, REVIT or Navisworks are not the answer. ENG proposes an extra step that consists in implementing a Digital Twin with such model and data. Hosted on the www.youbim.com platform, where end-users can quickly find a valve they need to shut down to stop a leak, or identify upstream and downstream impact when maintaining certain equipment.
For projects in construction, or recently handed over, ENG has developed an efficient process to capture all the changes that took place during construction. By utilizing As-Built drawings and/or sub-contractor mark-ups, ENG incorporates the information into the BIM to generate As-Built models.
Project close-out often becomes a difficult stage for General Contractors when the information required for this purpose is inaccessible or misplaced. We build the BIM and link all building design data, cut-sheet data, field changes, and other required documentation for Close-out in the interest of assisting any/all contractors during this stage. The BIM becomes a single source of information and a central database. Additionally, when a 6D Facility Management solution is planned at a later stage, ENG will integrate all necessary metadata of the model for future use.